Jo Harris is one of our Directors, and is an RCVS Recognised Specialist in Cardiology.  She joined HeartVets in 2009 and is based in Exeter, where she offers regular clinics, as well as a number of visiting referral clinics throughout the south west.  Jo has been working in purely cardiology referral practice for several years and is regularly involved in CPD provision to vets and and cardiologists at both local and national level. Jo has a particular interest in arrhythmias and her research includes novel uses of Holter monitoring in canine preclinical dilated cardiomyopathy. Jo has developed the Holter monitoring department at HeartVets, which is now the largest veterinary Holter service of its kind, offering Holter monitor rental and analysis to cardiologists and general practitioners all over the country. Jo is one of our interventional cardiac surgeons, and is also on the Veterinary Cardiovascular Society panels for auscultation and Doppler echocardiography.
Dave Dickson, one of our Directors, is an RCVS Recognised Specialist in Cardiology, having joined the HeartVets team in 2011. He lives and works in south Wales, where he offers cardiology referral clinics. Dave regularly lectures regularly to local, national and international audiences has presented research at international conferences. His research into feline dyspnoea won the prestigious Best Research Communication at the European Congress of Veterinary Internal Medicine. He has published many original research articles and collaborates with colleagues in veterinary medicine and human exercise physiology from around the world. Dave is one of our interventional cardiac surgeons and is also on the auscultation and Doppler Echocardiography panels for the Veterinary Cardiovascular Society.
Anna Beber graduated from the University of Glasgow and spent her first years as a mixed practice vet in both India and Norfolk before deciding to pursue a career in small animal medicine in a busy hospital in Cornwall. In 2016 Anna returned to the University of Glasgow to complete the Small Animal rotating internship at the University of Glasgow Small Animal Hospital where she developed an interest in Veterinary Cardiology.  In 2018 she completed a Masters in Veterinary Cardiology and achieved the RCVS Certificate in Advanced Veterinary Practice (Veterinary Cardiology).
Each year Anna spends a couple of weeks volunteering as a vet abroad and has worked in many countries including India, Belize, Borneo, Argentina, and Greece. 
Outside of work she enjoys making the most of the south-west coast by surfing, swimming and running with her dog Maya.
Alex Pack graduated form the University of Bristol in 2015 and spent three years in small animal practice in Somerset, Monmouthshire and Cardiff before joining Heart Vets in 2018, initially completeing an internship and then training with us as a cardiology clinician. Alex achieved the RCVS Certificate in Advanced Veterinary Practice (Veterinary Cardiology) in July 2021. She is now part of our clinical referrals and interventional cardiology team at Cave Veterinary Specialists, and also offers visiting clinics in the Somerset area. Alex enjoys all aspects of cardiology, and her research interests include atrial fibrillation and cardiac biomarkers in hypertrophic cardiomyopathy. Outside of work she enjoys skiing, canoeing the Wye, travelling, hiking with her two dogs, Evie and Wren and baking for the Heart Vets team (Alex makes exceedingly good cakes!).
Fiona Glen qualified from the University of Edinburgh in 2012 having already attained a degree in Zoology and Evolutionary Psychology at the University of Liverpool. She spent 4 years in mixed and small animal practice before completing an internship in Cardiology at Langford vets, University of Bristol. Following her internship, Fiona worked in a busy first opinion and referral hospital in Bristol providing their internal cardiology service, and in January 2020 completed the RCVS Certificate in Advanced Veterinary Practice.
Fiona's research interests are influenced by her background in first opinion practice, particularly the role of cardiac disease in geriatric feline patients. Her original research abstract 'Clinical Use of a Patient-Side Feline NT-ProBNP ELISA Test in 279 Cats in General Practice' was presented at ECVIM Congress and is currently being prepared for publication. Education and effective communication are two of Fiona's passions, and she hopes to pursue use of social media as a tool for educating veterinary staff, students and owners as part of the HeartVets team. Outside of work Fiona enjoys cycling, yoga, sewing and running around after her young son!
Fiona Tomczynska graduated from the University of Nottingham in 2016 and spent two years working at a busy small animal hospital in Cornwall. She then worked as a locum general practitioner for two years covering practices in Lancashire, Essex and the South West. She developed a keen interest in Cardiology whilst working at a busy hospital as an Emergency vet. Fiona joined HeartVets in January 2020 and completed the RCVS Certificate in Advanced Veterinary Practice (Veterinary Cardiology) in 2022. Fiona enjoys all aspects of cardiology, and has a particular interest in interventional surgery, echocardiography and arrhythmias. Fiona recently volunteered for the Worldwide Veterinary Service as a cardiology lecturer in Thailand. Outside of work Fiona enjoys running, surfing and spending time with her Cocker Spaniel Bodhi.
Tiago Bispo graduated from the University of Lisbon in 2007 and worked in several small animal hospitals both in Portugal and in the UK, including Davies Veterinary Specialists, where he completed a rotating internship followed by a few months with the cardiology team. Tiago has completed his Certificate in Advanced Veterinary Practice (Veterinary Cardiology) in 2019 and is currently undertaking a European Masters in Small Animal Veterinary Medicine (Cardiology), through the European School for Advanced Veterinary Studies, focusing his research in electrocardiography.
His favourite activities outside work include playing with his young son, mountaineering, rock climbing and playing tennis.
Sandra Regada graduated from the University of Tras-Os-Montes e Alto Douro, Portugal, in 2014. From there she worked in a feline clinic in Portugal. Then she took a position in a busy referral centre in Portugal, mainly working in emergency/critical care and cardiology. Sandra moved to the UK in 2018 and started an internship at North Downs Specialist Referrals, moving to The Queen's Veterinary School Hospital (University of Cambridge) to complete a cardiology internship and working towards a certificate in Veterinary Cardiology through the European School for Advanced Veterinary Studies. Now we are lucky enough to have her as part of the HeartVets team.  
She loves all aspects of clinical cardiology but has a special interest in interventional cardiac procedures, congenital heart disease, transoesophageal echocardiography and arrhythmias. 
In her spare time, you can find Sandra on a surfboard, hiking or doing Tae Kwon Do.
Charlotte (Charley) Glover RVN
Charley joined the HeartVets team in February 2015. Since qualifying with distinction from Bicton College in 2002, Charley worked at St Davids Veterinary Hospital in Exeter where she became Head Nurse. She also became an orthopaedic referral nurse as well as a clinical coach for other members of the nursing team. Since joining HeartVets Charley has used her invaluable referral experience to develop our referral support network and co-ordinate our services. She regularly helps with our clinics around the South West region, and also leads our cardiac interventional surgery nursing team.

Nicki Fern RVN
Nicki joined the HeartVets team in September 2015 to assist Charley and the HeartVets team in organising the referrals and to help develop our CPD programme. Nicki Qualified in 1994 and has worked in mixed and small animal practices in the Southwest. Most recently she worked as head nurse for the City Vets group in Exeter, and during this time in 2010 Nicki achieved her Nurses Certificate in Anaesthesia & Critical Care. She is keen to help develop some Cardiology CPD for nurses, so watch this space!
Holly Jones RVN
Holly has been part of the HeartVets team since early 2017. She trained and qualified as an RVN at St Davids Veterinary Hospital, Exeter and subsequently worked as an orthopaedic referral nurse for several years. After further developing her organisational skills within both surgical equipment and equine feed companies, Holly decided to return to the veterinary referral world and has provided additional help and support in growing and co-ordinating the HeartVets services.  
Charley, Nicki and Holly are at the end of the phone to answer your questions and arrange referral appointments between clinics to simplify the process for referring vets. They can also help with queries about our CPD or online diagnostic cardiology and our Holter monitor rental service.
Mel Davis joined the Heartvets team in May 2020 as a referrals administrator. Previous to her new role Mel has spent many years working as a receptionist, referrals administrator and insurance and accounts clerk in a large referral and first opinion practice in Gloucestershire, so brings a wealth of knowledge and experience to the team.
Sharon Mitchell joined the HeartVets team in April 2021 as a Holter Analyst having previously worked for the NHS at University Hospitals Plymouth and within the private sector as a Holter analyst and ECG/Holter analysis trainer.
Based in Plymouth and qualifying in 1984 becoming an Associate of the Society of Cardiological Technicians (SCST). I have trained colleagues, people new to the profession and university students in ECG interpretation and the use of the Pathfinder software as well as other Holter analysis platforms.
Outside work I like to travel, explore the UK, attend live music events and the theatre.
Lauren Holland RVN joined HeartVets in 2020 as a Cardiology Nurse but has worked alongside the team for several years. After she qualified with an honour's degree in Veterinary Nursing in 2011, Lauren worked in a busy mixed animal practice and was lucky enough to work with many different people in a variety of specialisms. Lauren developed a passion for emergency medicine which led her to complete a certificate in emergency and critical care. Always wanting to develop her skills she ran regular canine behaviour clinics, become a clinical coach for Veterinary Nurse students and gained a teaching qualification. Lauren is enjoying all the aspects of her role at HeartVets in particular she enjoys echocardiography, nursing the critical patients and assisting with emergency procedures.
Helen Brewster RVN joined the HeartVets team in July 2021 to assist the team in running the holter service and provide support within the clinics. Helen is a registered veterinary nurse, as well as an experienced lecturer, having taught at both Hartpury and Bicton Colleges. She graduated in 2000 with a degree in equine studies and qualified as a veterinary nurse 2004 and has worked in small animal practice, mixed practice, out of hours emergency work as well as a locum veterinary nurse. During this time, she gained both her diploma in advanced veterinary nursing and her ISFM certificate in feline nursing, both with distinction. She is keen to help develop cardiology CPD for nurses.
Amy Robertson RVN qualified in 2009 at a small animal practice in Winchester, she then moved to Somerset and became a referral nurse at Cave Veterinary Specialists in 2010. During that time, she developed her referral nursing skills in all aspects of nursing and had a keen interest in anaesthesia, imaging and surgery. Amy enjoyed working alongside the Heart Vets team at Cave Veterinary Specialists, especially the cardiac interventional surgeries. This is where her interest for cardiology began and she joined the team in August 2021. Amy is now assisting with clinics in the Somerset area and being part of the interventional surgery nursing team.
Outside of work, Amy enjoys hiking with her dog Milo and spending time away with her young family in their campervan.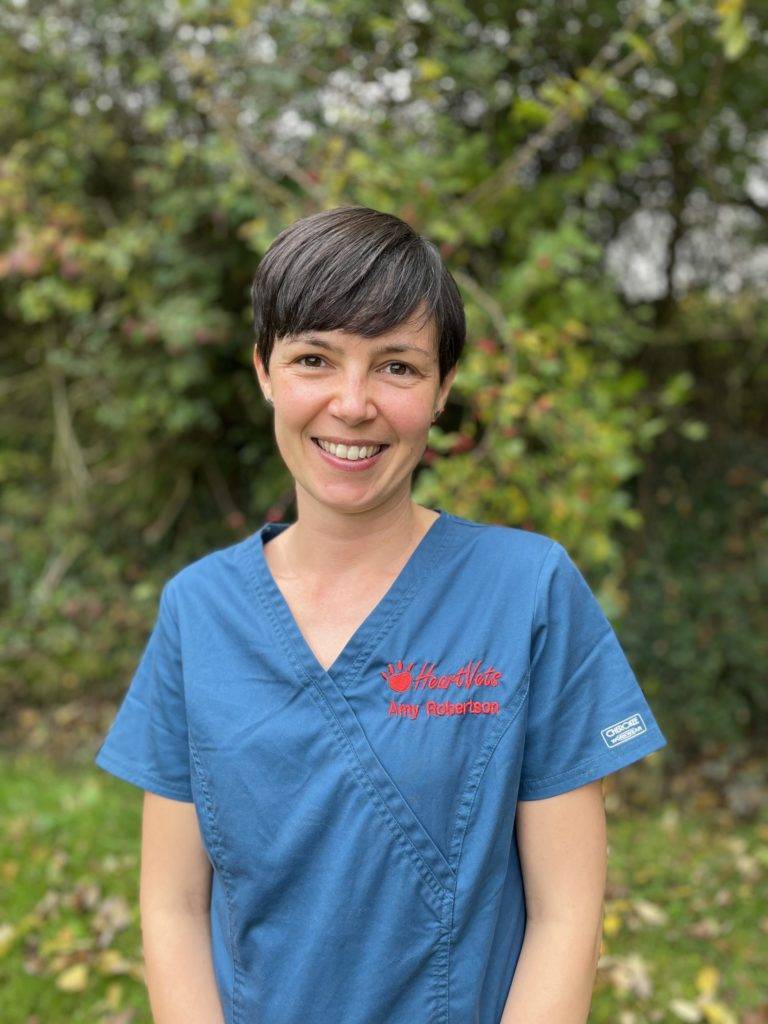 Lin Knight RVN worked for many years in admin roles in Suffolk before moving to the South West and joining a veterinary reception team in Taunton.
She had always wanted to work with small animals and so after 6 months she became an Animal Care Assistant and then went on to train and qualify as a RVN, a role she remained in for 10 years, except for a short break working for a well known dog charity as Assistant Manager at a rehoming centre.
Lin found she missed being in practice and returned to nursing in North Devon for a few years before joining HeartVets in 2021.
When Lin isn't working, she enjoys nothing more than walking the local sections of the South West Coast Path or hiking across Dartmoor and Exmoor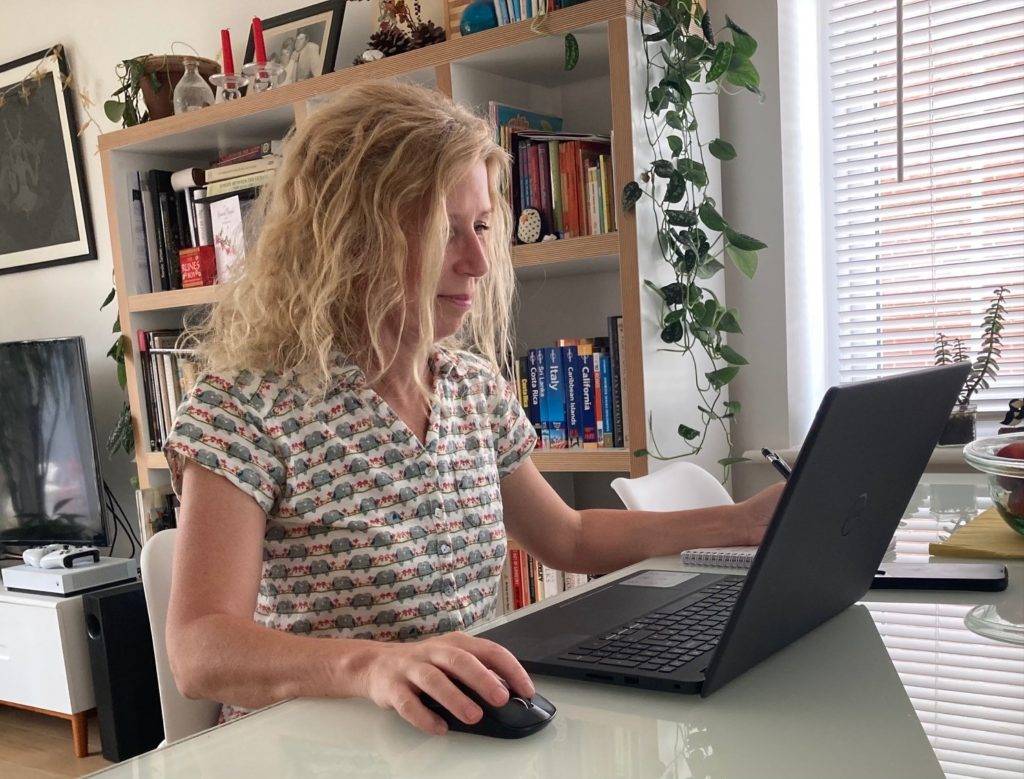 Julia Carey RVN qualified as a Veterinary Nurse in 2014 and worked in the charity sector for 7 years and then for a large hospital as a neurology nurse for 4 & a half years before joining Heart Vets in January 2022. Julia has enjoyed expanding her knowledge of cardiology since joining the team and provides nursing support to the clinics based in Gloucester and South Wales.
In her spare time, Julia enjoys live music, horror movies and devoting time to her greyhound Penny.