Visiting Screening Clinics
Our screening clinics provide an accessible and affordable echocardiographic screening service for asymptomatic dogs and cats in the comfort and convenience of your own clinic. We believe that identifying heart disease in asymptomatic animals can save lives and worry for owners.
Which patients are suitable for screening?
Canine breeds predisposed to development of dilated cardiomyopathy (DCM) aged 5 years or older (3 years and over in giant breeds)
Cats with a murmur or gallop sound detected during clinical examination, with no clinical signs of heart disease
Any dogs or cats with siblings/ parents diagnosed with DCM/HCM
middle-aged and older small breed dogs with asymptomatic heart murmurs, likely attributable to degenerative mitral valve disease. Echocardiography is the gold standard method to accurately stage disease in this early stage (ACVIM stage B) to determine whether treatment with pimobendan is indicated. See our Mitral valve disease staging information here.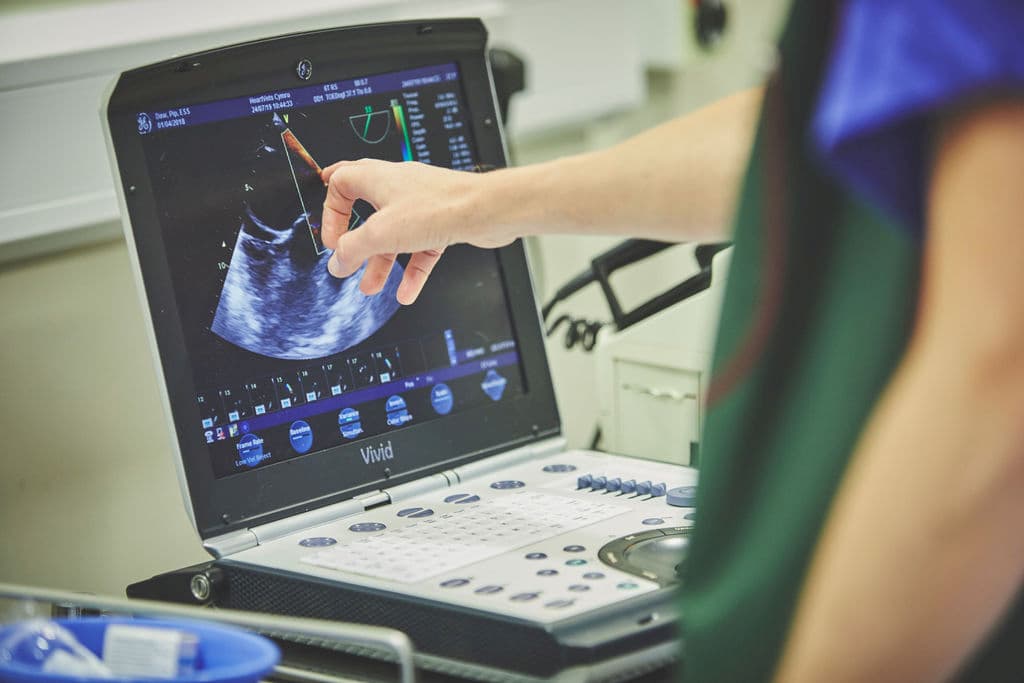 Dilated cardiomyopathy is a disease of large and giant breeds of dog as well as some spaniels, which has a relatively long pre-clinical (occult) phase prior to development of congestive heart failure. Recent research has shown that in Dobermans suffering with occult DCM (with echocardiographic left ventricular dilation), treatment with pimobendan increases the average survival time by 9 months. This is also likely to apply to other dog breeds predisposed to DCM. In certain breeds such as Boxers and Dobermans Holter monitoring (ambulatory ECG) can also be useful to screen for potentially life-threatening occult arrhythmia.
Hypertrophic cardiomyopathy is similarly difficult to diagnose in cats during the pre-clinical phase. Recent research has found that approximately 40% of cats with murmurs have left ventricular hypertrophy, and the majority of those with gallop sounds or arrhythmias also have significant underlying disease. Severity of disease in asymptomatic cats is extremely variable and identifying cases with left atrial enlargement is particularly important, where there is a risk of developing aortic thrombo-emboli, congestive heart failure or sudden death.
How do I arrange a clinic?
To host a screening clinic we request that you recruit between 3 and 8 patients fitting the above criteria. Patients are preferably admitted for the day, although a cardiologist consultation with the client is available on request (at additional cost). The cardiologist will record findings on your own practice records, provide a certificate for each animal screened and discuss findings with your vets where necessary. We are happy to provide assistance to your vets with cases found to be suffering from clinical disease, although subsequent cardiologist visits would be treated as normal referrals.
We will require one consulting room (which can be darkened appropriately) for the duration of our visit and a nurse for assisting with echocardiography.
If you are interested in hosting a screening clinic please call us or email admin@heartvets.co.uk.