We are very enthusiastic about sharing our cardiology knowledge and skills!  Whether you are a recent graduate, refreshing your clinical knowledge after a break, or already have a keen interest in cardiology, there are lectures and courses available to suit your needs.
Below are upcoming events we are involved with.  To book your place click the "book now" button and select your chosen event from the drop down box on the online submission form.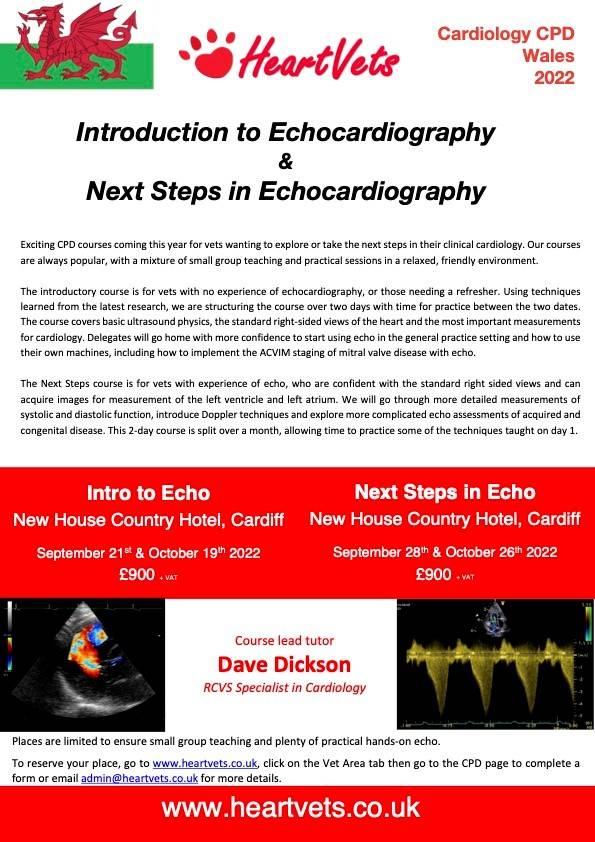 HeartVets Nurse CPD Series
A course of 6, monthly CPD events running in Cardiff, covering all aspects of Cardiac nursing in general practice. We will be restricting the number of delegates per event to allow plenty of space, so everyone feels safe. Priced at only £185.00 for all 6 sessions or £35 each session if booked separately.
Topics covered (In date order):
Clinical examination and Murmurs
ECG and arrythmias
Anaesthetising the cardiac patient
Radiography of the chest and interpretation.
Cardiac emergencies and management
Cardiac congenital defects and surgical interventions of PDA and PS cases
These will be evening sessions, starting around 7.00pm.
Once we have received a completed registration form (please see below), we will Invoice for the course of 6 meetings, or the evening session chosen.   Once payment has been received we will confirm your place on the course and event timings.
The course will provide 12 hours CPD (or 2 hrs per session) and we will issue certificates at the end of the course.
Coming soon …….
We will also make the whole course available to buy online as a series of webinars at the end of each of the spring and Autumn series – please keep an eye on the website for further details.
1 – Thank you to those who attended Jo's recent online talk for WCVA "Cardiology emergencies" – the lecture slides are available here to download
2 – Thank you to Dave for an excellent talk on advanced echocardiographic techniques for the Autumn meeting of the Veterinary Cardiovascular Society – the slides are available to download below